Hello Wednesday, we hope you are well and your Addams family namesake is behaving herself. Today's Happy Day wishes are wished by Udon the questioning cat, he went to ask Plinky a few questions about his evil plans and fell into the water.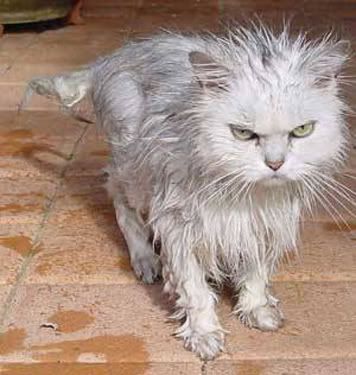 "Go on, laugh it up boys and girls, ha ha I'm all wet. Please can someone pass me a towel, oh and Happy Wednesday I suppose too." We think his pride is a little hurt but guaranteed after a few shots at the milk bar he'll be all laughs about it. Today's forecast is the Senate, oh let us ruminate for hours on getting nowhere and then make a stack of bad decisions. Yep, we're getting political, vote Mr Cheese for president! Are there any questions today? No, sorry, we have run out of question fuel and need to fill up on some more at a Trivia quiz or two. That way we can empty out our excess of answers too. Salutations The Happy Day Gang.
___________________________
Sent by Mr Cheese via the free
Email Scheduler
service.
Register now at
http://www.emailschedule.com