Yes!!! It's that Friday thing again. The weekend is inches away from our grasp, soon we shall skip off into the sunset hand in hand with the weekend for many a good time. Smiles and joy are all around like a tree of happy in autumn dropping its leaves of hooray upon our heads. Today's happy day wishes come from Jetty the laundry cat, he's preparing to wash all our party garms for the weekend.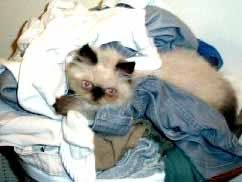 "Another week another wash load, don't worry though, I get to go to the ball too, and my carriage doesn't turn into a pumpkin after midnight either. Happy Friday!!!" Don't worry, he's using special conditioner to prevent his hair molting on all the clothes, he's a professional washer of the clothing. Today's forecast is Yeeeeehaaawww!!! There's cowboys about today bringing out the celebrating lassos to bring the weekend home to roost. What? When? Where? Why? Tough ones, I think if we all stop using our heads to grow hair for a day and ruminate heavily we may come up with the answers. Be careful, this has been known to result in a couple of grey hairs and we can't guarantee that the answers are particularly worth knowing. Renandstimpygards, The Happy Day Gang.
___________________________
Sent by Mr Cheese via the free
Email Scheduler
service.
Register now at
http://www.emailschedule.com